Toei Animation makes a special announcement of the new anime movie "DRAGON BALL SUPER" planned for 2022. Toriyama Akira sensei has worked passionately to create a Dragon Ball Movie unlike any other.
Fans worldwide received a special surprise this Goku Day, the annual Dragon Ball celebration. Toei Animation revealed a new "Dragon Ball Super" anime movie to be released in 2022.
Regendaly manga, Dragon Ball
The Dragon Ball phenomenon began in 1984 when Japan's well-known manga from Toriyama Akira sensei in "Weekly Shonen Jump." In the end, the manga became a top-ranked title throughout its ten and a half years of publication.
Since then, its popularity has continued to grow with a record of 260 million copies sold worldwide and counting. And with Dragon Ball's ever-increasing popularity, it has expanded beyond manga to anime, movies, games, and merchandising. Even after 37 years since the launch of the original manga, Dragon Ball continues to evolve and will reach new heights starting with this new large-scale movie. #DBSuperMovie
About the new Dragon Ball anime movie
The new release will be the second film based on "Dragon Ball Super" launched in 2015. The first such movie was the 2018 release "Dragon Ball Super: Broly," which was a smash hit with audiences. As a result, it has set a worldwide box office record of over $120 million.
Planning for the new film project began in 2018. Actually, it was before the release of "Dragon Ball Super: Broly." It tells a large-scale story that would build on the enthusiastic response for the previous theatrical series and the current global enthusiasm for "Broly."
Toriyama sensei himself has picked up his pen to deliver a fascinating story that fans desire. He has worked passionately with the most exceptional attention to detail and highest quality standards. His passion reaches from the magnificent story composition to character design to the lines of the script. He creates the Dragon Ball movie unlike any other in its history, and it will surely be a blockbuster with fans.
Toriyama Akira sensei's special message to fans.
As part of the announcement, Toriyama Akira sensei, creator of the original story, screenplay, and character design, wrote a special message to Dragon Ball fans.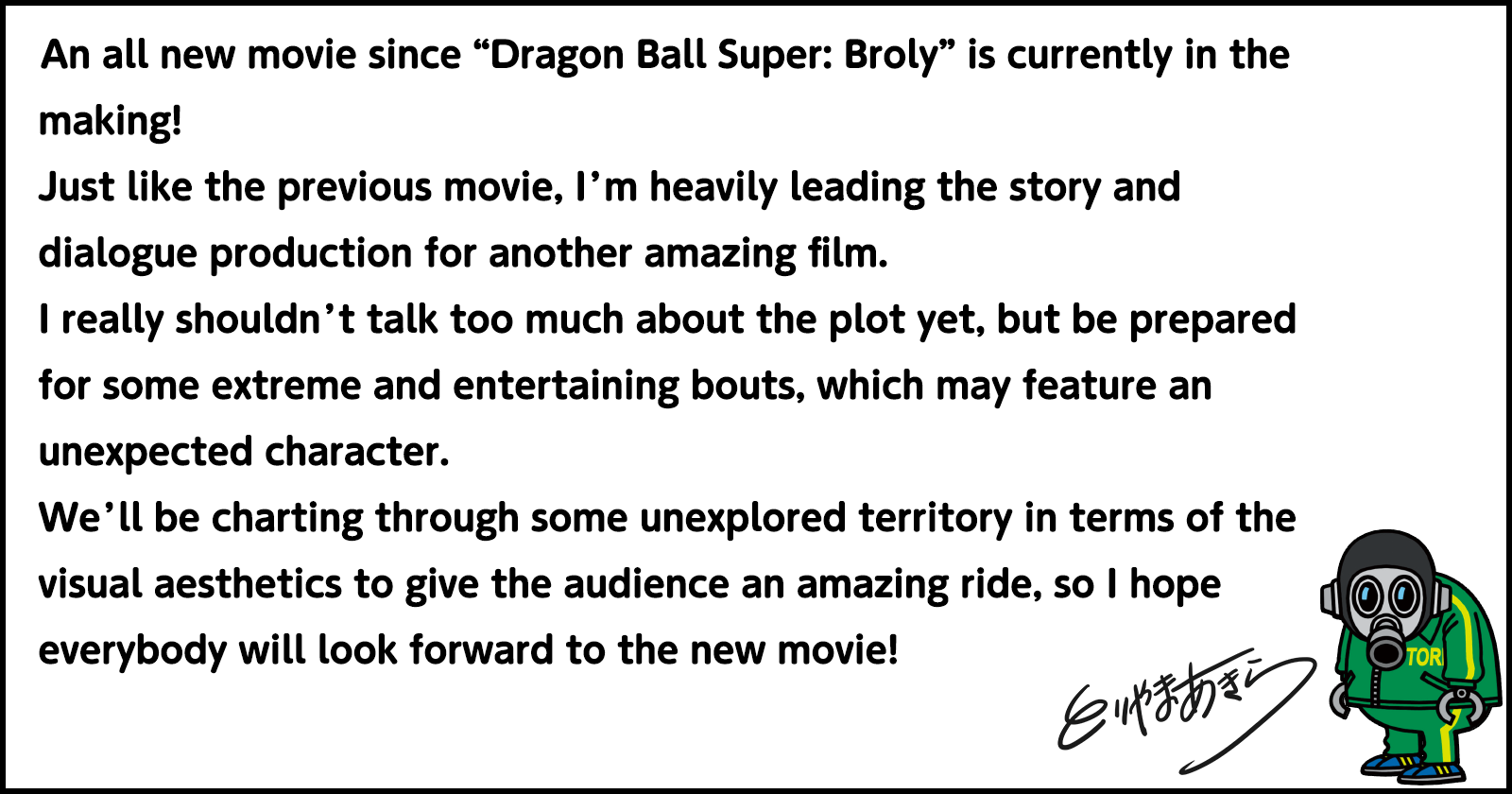 An all new movie since "Dragon Ball Super: Broly" is currently in the making!

Just like the previous movie, I'm heavily leading the story and dialogue production for another amazing film.

I really shouldn't talk too much about the plot yet, but be prepared for some extreme and entertaining bouts, which may feature an unexpected character.

We'll be charting through some unexplored territory in terms of the visual aesthetics to give the audience an amazing ride. so I hope everybody will look forward to the new movie!
A signed copy of this message is available here.
Do follow Toei Animation and the hashtag #DBSuperMovie on social media for the latest movie news and information in the months ahead.
©バードスタジオ/集英社 ©「2022 ドラゴンボール超」製作委員会
原作・脚本・キャラクターデザイン:鳥山明
Dragon Ball Official website | Twitter