Sakura (Cherry Blossoms) season, has always been a fascinating backdrop for popular anime shows. Let us look at a few of the best anime moments featuring these soft spring flowers.
Fragile, and soft, cherry blossoms are a subtle symbol of spring. In Japan, people have celebrated this delicate bloom season for thousands and thousands of years. Therefore, it's no small wonder that this festival features multiple Japanese anime, music videos, dramas, and movies. Japan has no shortage of awe-inspiring cherry blossom spots. We have picked out a few of our favorite anime shows and scene that have stunning backdrops of sakura trees!
Our list of 5 Anime shows that celebrate cherry blossoms-sakura
Cardcaptor Sakura
On her way to school, Sakura Kinomoto's path is often covered with beautiful cherry blossoms in full bloom. It is no surprise that such moments feature a lot in this anime show. In fact, most of Sakura's significant story graph is decorated with the backdrop of cherry blossoms trees.
5 Centimeters per Second
Makoto Shinkai's 5 Centimeters per second is all about painting a realistic picture of life. The gorgeous visuals of this movie keep us hooked to the screen till the end. This movie features multiple moments under the sakura trees. Often rated as one of the best romantic Japanese anime movies of all time, this breathtaking movie is sure to make you cry!
Your Lie in April
When Kousei hears Kaori's violin for the first time, he was captivated by Kaori's unstructured style of music, a style in which he had no experience. It is no wonder he was enthralled! Much of Kousei and Kaori's first introduction centers around Kaori's music, but one cannot miss out on the beautiful outdoor setting of Sakura Trees and petals flying everywhere.
Gintama
Adventures of Sakata Gintoki, a broke samurai, along with his alien friend Amanto, Kagura, and Shinpachi is really funny. An era when samurai are no longer needed, which is bound to lead to multiple comedy moments and fight sequences under the wonderful sakura trees! It is no wonder that the movie Gintama: The Final has earned around 1.4 billion yen (about US$13.27 million) in box office collection in Japan (as of February 2021)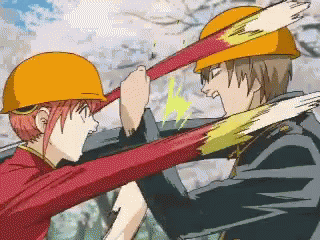 GIF source: https://tenor.com/
Clannad
Clannad is a ridiculously cute and heartbreakingly sad anime. The pessimistic attitude of Tomoya combined with Nagisa is unforgettable. The first conversation between these two strangers, on their way to school, took place under the backdrop setting of Sakura trees. This immediately sets up the chemistry between the two characters and brings along a significant character development arc in the anime.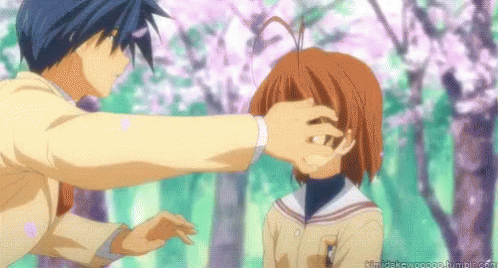 Apart from the above-mentioned anime moments that include cherry blossoms-sakura trees, there are innumerable anime moments that showcase this subtle beauty of nature in full glory. Do you have cherry blossoms season in your city? If not, do not worry – these great anime are there to take you on an amazing journey!